Biden announces new national monument to 'help right the wrongs of the past'
President Joe Biden visited Arizona on Tuesday to promote climate investments and designate a new national monument.
Nearly a million acres of land near the Grand Canyon will become the Baaj Nwaavjo I'tah Kukveni, or ancestral footprints at Grand Canyon National Monument. Thousands of cultural sites belonging to dozens of tribal tribes will be protected, and the area will be off-limits to any future uranium mining projects.
"Today marks a historic step to preserve the greatness of this place," Biden said, adding that the appointment "will help right the wrongs of the past and preserve the land of our ancestors' footprints for all generations."
"This very act of preserving the Grand Canyon as a national park was used to deny Indigenous peoples full access to their homelands, to the places where they hunted, gathered and took their precious sacred ancestral sites," Biden said. "They have fought for decades to be able to return to these lands, to protect these lands from mining and development, to decontaminate them, and to preserve their common heritage for future generations."
Biden's visit to Arizona is his first stop on a three-state tour during which he will tout political victories that will pump billions of dollars into climate infrastructure and clean energy projects. He emphasized that preserving the lands as a national monument is positive for the planet and the economy.
But before his arrival, Republicans criticized Biden's decision, saying it would create dependence on the federal government.
He added, "This administration's lack of sanity knows no bounds, and their actions indicate that President Biden and his extremist advisers will not be satisfied until the entire federal district is off limits and America is mired in dependence on our adversaries for our natural resources." He said Representative Bruce Westerman, Chairman of the House Committee on Natural Resources. "This land belongs to the American people, not to any administration or bureaucrats who think they are the ones who make the laws…. I see no logic in this proposal beyond a selfish political agenda that hoards the very resources on which we depend in our daily lives." If President Biden goes ahead Put this crazy proposal forward, and I will fight it in Congress and advocate for responsible management of our resources."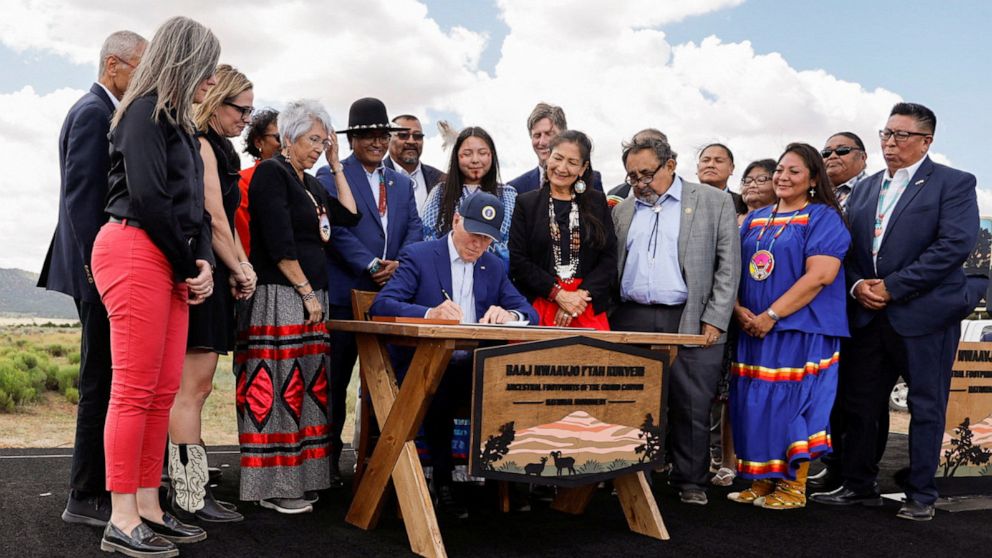 He also came under fire from a Democrat who said Biden had not done enough to address the sweltering heat that blanketed the state this summer.
"I think he should do more," Rep. Ruben Gallego, D-Ariz., told ABC News ahead of Biden's visit.
When he greeted Biden on Monday, Gallego said he brought forward legislation he introduced in Congress to add extreme heat to FEMA's list of eligible major disaster events so they can attract federal funds.
"Just as Northeasters don't have to deal with flooding on their own, and Midwesterners don't have to deal with snowstorms on their own, Arizona communities shouldn't have to deal with increasingly dangerous summers on their own — and I will continue to push to ensure They don't have to."
Phoenix was the epicenter of deadly temperatures that topped triple digits in June and July. The city has broken records for consecutive days of high heat, at one point reaching an all-time high of 118 degrees.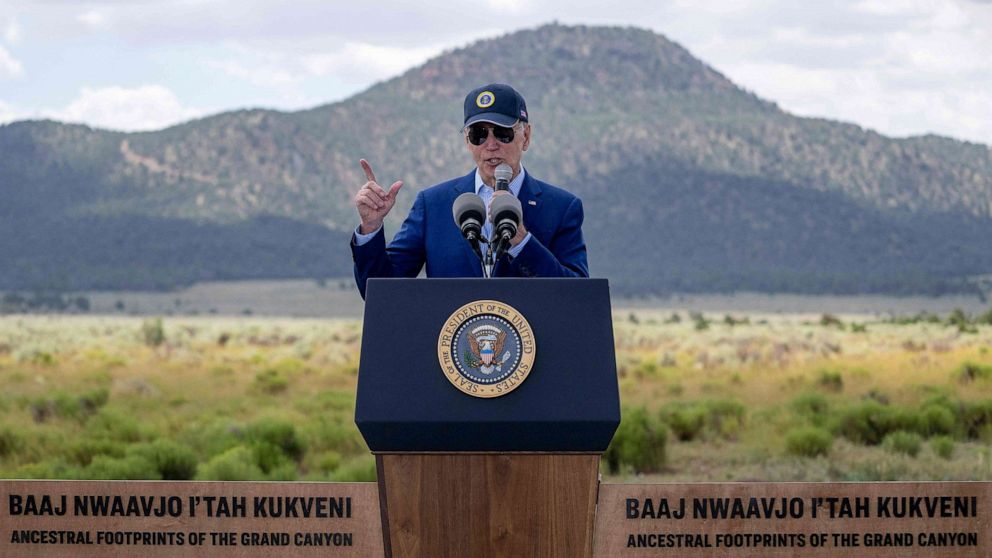 Addressing the extreme heat during his remarks on Tuesday, Biden said there was "more work ahead of us to combat the existential threat of climate change."
"Extreme heat is the number one weather-related killer in America," the president said. "The extreme heat in the hills kills more people than the victims of floods and cyclones combined. It threatens the farms, forests and fisheries that many families depend on for a living."
And last month, the Biden administration announced some new steps aimed at helping communities and protecting workers affected by the weather. This included the Department of Labor's first-ever risk alert as well as investments to boost water storage capacity and develop more sophisticated weather forecasts.
In addition to the new national monument designation, the administration also announced on Tuesday an injection of $44 million to enhance climate resilience in the national parks. The White House said that would include 43 projects across the country as well as Puerto Rico and the US Virgin Islands.
The money will come from the Inflation Reduction Act, which Democrats passed last year. Biden criticized Republicans in Congress for voting against the legislation.
"These are investments in our planet, our people, and America itself," Biden said.
This article originally appeared on abcnews.go.com